Opportunities
»
Sqribble
»
Free Associate Membership
Products and Services
»
Super Solo Ads
»
Extreme Traffic Pack
»
12 Memberships FREE for LIFE
Free Stuff
»
Internet Marketing For Newbies
Free Traffic Packages
»
500,000 Mega Ad Credits
»
Promote To ONE Million
Brought To You By
Edwin Allen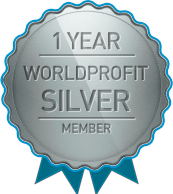 Published by: Edwin Allen on 06-Feb-21
Use World Profit
Good Afternoon one and all, do so hope that you are all keeping both safe and well.
You maybe a little confused by the heading of this post, we are on WorldProfit you will say, agreed but do you use it?
Having been on this site for nearly a year, have to confess, not only have I not been using it, I was not aware of most of the extras that are available. The amount of add-ons is truly amazing. I have been truly astonished I what I have found once I started having a good look round.
Was always aware of the advertising that I could use, also the ready made scripts to help with my advertising efforts. It is the others that I have found that has really amazed me.
But let me start at the beginning the website that you get is first class, have finally started to build it properly. Now have four free books on it, these are great to advertise your site. Intend to ad PLR in the not to dstant furure.
Recently discovered the funnel builder, have three sites ready to roll out. Having been so impressed with what I have found, decided the other day to upgrade from silver to platinum. The add-ons and extras which you get are again truly amasing.
Have spent sometime playing with the course design studio, will definitely be using this.
Now have an autoresponder, which is built into the site, with no extras to pay.
Not to mention all the extra advertising credits and solo ads which I will be able to use.
You will observe that I am getting totally carried away with World Profits, will have to slow down and workout how to use everything a little at a time, otherwise the brain will go into meltdown.
With the Clickbank store already installed, will be able to add to the stores that are available.
Money Makers is also an excellent proposition, I could go and on about the wonders of this site. Not even mentioned the free advertising offers that you can give to those who subscribe.
Guess what I am saying is that being an Associate is good, upgrading to Silver is superb, going the whole hog to Platinum is totally awesome.
Hope hat you have been able to understand my ramblings.
Have a great week, be back next week.
Stay safe.
Stuart (aka Edwin)
Specials
»
Advertise 5 Sites For ONE Year
»
State-Of-The-Art Mailer System
»
Genius Lander V2
»
Clickbank University
»
PLR & eBook Store
»
Get 20+ Income Streams
»
Clickbank Super Store
»
Article Directory